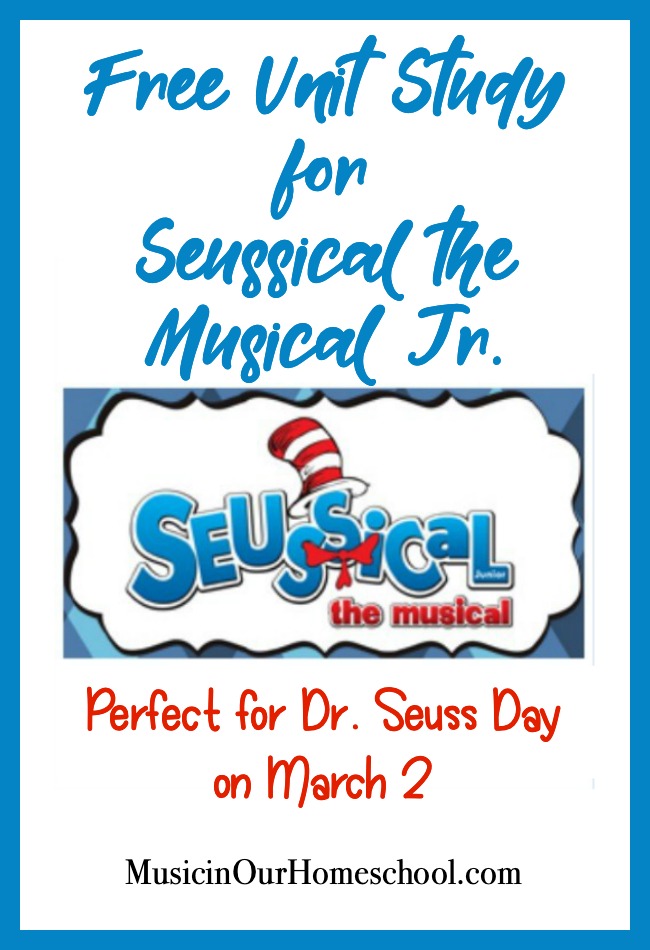 [Today's article was written by Gena Mayo and is part of the 31 Days of Music in Our Homeschool Series.]
Disclosure: I get commissions for purchases made through affiliate links in this post.
My kids are involved in a community theater company called Chicago Youth Theater (formerly known as Spotlight Youth Theater) in the Chicago area. This winter they are performing (and I'm the musical director for) Seussical the Musical Jr.. I have discovered what a truly fun musical this is and how great it would be for all kids to learn about it, even if they don't get to go watch a performance or perform in it themselves. Today, enjoy a
Unit Study for Seussical the Musical Jr.!
Read the Synopsis
Read the Dr. Seuss books
Listen to and/or watch the musical
Additional activities
Here is the basic synopsis of Seussical the Musical Jr.:
Horton the Elephant is splashing around in the water in the Jungle of Nool one day when he hears someone call, "Help!" He finds a dust speck and imagines that there are people on it. He places it safely on a clover. The other animals, especially the Sour Kangaroo and the Wickersham Brothers (monkeys) think he's crazy. There are people on the speck–the residents of Whoville. Horton talks with Mr. Mayor and his son Jojo.  The Cat in the Hat is the narrator, but also enters the story. He is getting Jojo to think which gets him into trouble.
Meanwhile, Gertrude McFuzz, a bird, is sad about her one-feathered tail and Mayzie, a bird with a beautiful tail encourages Gertrude to take some special pills to get her tail to grow, which she does. Mayzie asks Horton to sit on her egg while she flies off for a vacation, and the monkeys with Vlad the Eagle get the clover with the Whos on it and throw it into a clover field. Horton is now stuck sitting on the egg when hunters come and sell him to a traveling circus.
Later Gertrude realizes that she wants to go back to being herself and finds Horton's clover for him. He is brought to trial in the Jungle of Nool and determined to be insane. But he gets the Whos to yell loud enough, especially with Jojo's "Yopp" and they are finally heard. The egg hatches and Horton, with Gertrude, decides to raise the Elephant Bird together. It's a happy ending!
If you'd like more to this lesson, plus lessons for 9 other musicals, check out my online course called Intro to Musicals!
Dr. Seuss books to read that the musical's story is based on:
If you are familiar with many Dr. Seuss books, you will recognize that Seussical takes many of the stories and brings them together. If you read the following books, you'll understand the background stories even better.
Yertle the Turtle and Other Stories
Did I Ever Tell You How Lucky You Are?

One Fish Two Fish Red Fish Blue Fish

I Had Trouble in Getting to Solla Sollew
The Sneetches and Other Stories
Listen to and/or Watch Seussical the Musical Jr.:
You can find the soundtrack of Seussical the Musical Jr. at your library or on YouTube.
You can watch the musical on YouTube as well, performed by schools or community theater groups.
Here is the soundtrack to the full Seussical (2000 Original Broadway Cast)
 version.

(Seussical Jr. has some songs cut and the show is shorter.)
You may also want to watch this great movie version of one of the main stories from Seussical:
Dr. Seuss' Horton Hears a Who!
Additional Dr. Seuss Day Activities:
Copywork of Horton's great quotes
"I meant what I said, and I said what I meant. An elephant's faithful one hundred percent."
"A person's a person no matter how small."
Find lots of Dr. Seuss Day classroom resources here.
Have older kids write a summary of their opinions of the music and the musical itself. They can type it out using these free Dr. Seuss fonts!
**Do you have any other great ideas to add? Please leave them in the comments.
Download a free 3-page Printable Pack to use with this 15-Minute Music Lesson:

Includes:

Composer Sheet, Listen and Write (Tempo, Mood, Like it?, and Instruments/Voices), and Listen and Draw
Related Posts: