President's Day is a day we remember two great American Presidents: George Washington and Abraham Lincoln. Washington was born on February 22, 1731, and Lincoln was born February 12, 1809. But, it's also a day to honor all Presidents of the United States. Today I have a Music Lesson for President's Day that you can do at home with your homeschool or in a class at school.
Click here for FREE music lessons: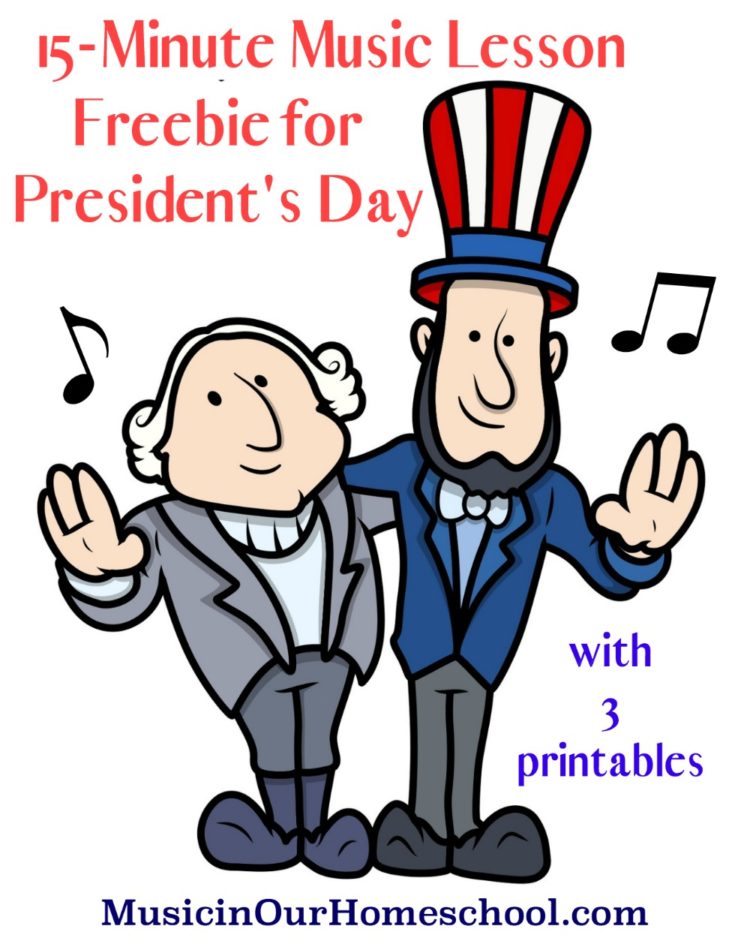 President's Day
President's Day was originally established as a holiday in 1885. It's always celebrated on the third Monday of February to provide a 3-day holiday weekend for Americans.
"Hail to the Chief"
"Hail to the Chief" is the Presidential anthem, which is played when he enters an official ceremony or gathering. It was first used associated with a living President in 1829 with President Andrew Jackson. It was also played at Martin Van Buren's inauguration in 1837.
This first version to listen to includes a choir singing and photos/videos of many of the Presidents.
See below for a couple of times when it was played for President Biden and President Trump (just the first minute).
"Presidential Polonaise"
President Chester A. Arthur didn't like the song "Hail to the Chief." He asked American composer John Philip Sousa to compose a new song, which was entitled "Presidential Polonaise." After Arthur left office, the Marine Band resumed playing "Hail to the Chief" for public appearances by the President.
Memorize the Presidents:
Here is a song to learn the Presidents in order, along with a neat fact about each!
Download a Free Printable Pack to go with this 15-Minute Music Lesson for President's Day:
You'll receive 3 pages:

Fill-in-the-Blank Worksheet about this Presidents Day music lesson

Worksheet to put 7 Presidents in order

Listen and Draw page (listen to the music above and draw what inspires you).

By downloading, you are also subscribing to my Music in Our Homeschool email newsletter to receive more tips, resources, and freebies to include music in your homeschool throughout the week. Your email is safe and never shared with others. You may unsubscribe at any time. See my privacy policy here.
Music Lessons for Holidays & Special Days:
If you like this holiday music lesson, you'll love the Music Lessons for Holidays and Special Days online course! The President's Day lesson is just one of 36 lessons.
Disclosure: I get commissions for purchases made through affiliate links in this post.
FREE President's Day Notebooking Pages
Get Free President's Day Notebooking Pages here: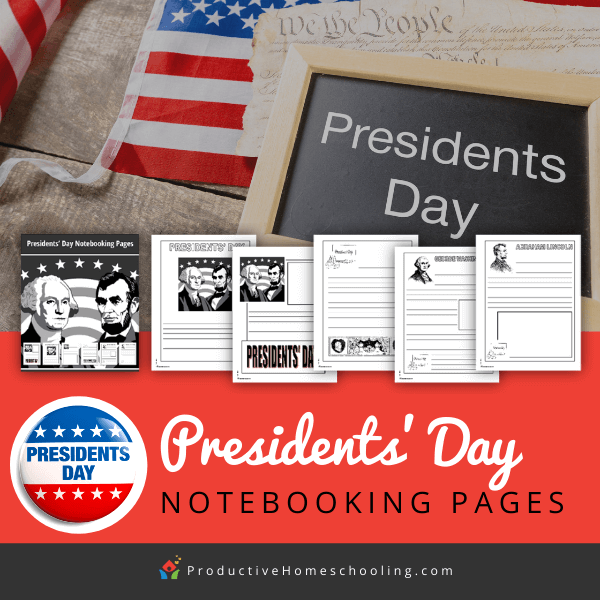 Here's a great President's Day art lesson
Related Posts: