I have so enjoyed writing my newest course, Music Appreciation of the Romantic Era, which launches today!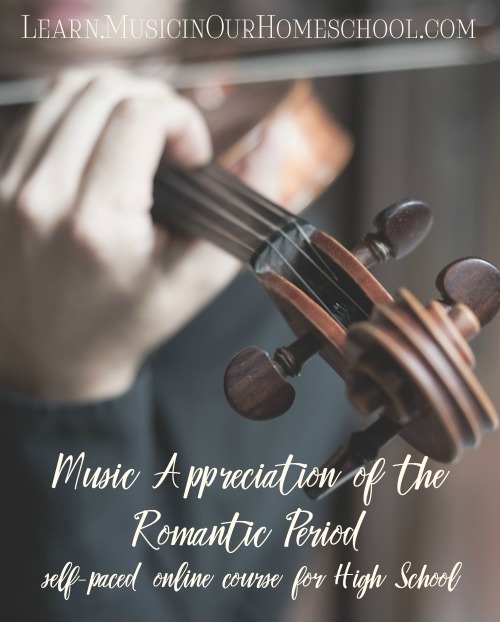 As I was researching and writing the course, it was so fascinating to read about all these composers and their lives. I included some very interesting information. No, music history isn't dry! 

Did you know that composer Johannes Brahms loved composer Clara Schumann after her husband composer Robert Schumann died? They were friends for 40 years but never married. But, he did put a secret message into one of his compositions about another woman he almost married!

And, Spanish composer Isaac Albéniz had incredible musical gifts, but he was also very mischievous. His mother took him to Paris when he was 7, but because of his mischief, he lost his chance to be accepted into the Paris Conservatory when he threw a ball at a large mirror and broke it. He returned to Spain but, at the age of 9, stowed away on a ship bound for Puerto Rico. He lived there for several years, playing the piano to earn a living. Albéniz also went on a recital tour from Cuba to San Francisco. He finally earned enough money to return to Europe!

The music that the 40+ composers included in Music Appreciation of the Romantic Era is rich and beautiful. Much of it the music you will recognize, like the Wedding March (written by Wagner), the song always played at graduations Pomp and Circumstance (written by Elgar), and the William Tell Overture which is the theme song of the Lone Ranger TV show (written by Rossini). 

My hope in writing Music Appreciation of the Romantic Era is to educate your students in classical music in a fun and joyful way. You simply read the lesson and watch the videos. Notebooking pages are and online quizzes are included if you wish to use them. 

High school students can use the course independently and earn a credit in Fine Arts!

The courses never expire. Buy now, use later. Use with some kids now, and use again with others later!

Read an unbiased review of the new course by Leah at As We Walk Along the Road.
Suitable for full credit in High School Music Appreciation.
36 lessons
Can be used with any students K-12.
Perfect for independent learning, group learning at home, or at a co-op.
Lessons, Videos, Printables, and Online Quizzes included.
Full price is $127.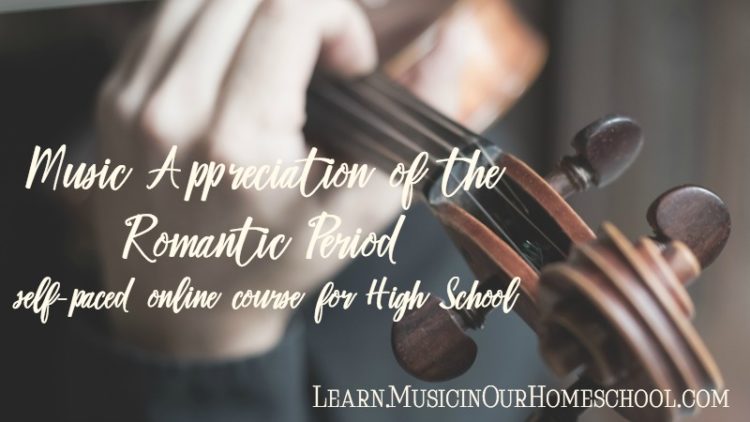 Gena Mayo has done it again! "Music Appreciation of the Romantic Era for High School" offers students and parents a chance to learn about more than 40 different composers. Some musical selections were familiar, while others were completely new to me. Each lesson offers a brief biographical piece about the composer, followed by numerous samples of the composer's work to enjoy. I cannot think of a better way to learn about music!   ~Michelle Habrych, homeschool mom of 2 teens 

Music Appreciation of the Romantic Era for High School is every bit as captivating as the other courses in the series. The written material that introduces the composers is as long as it needs to be and no longer. It motivates students (or should I say me?) to want to listen to all the musical selections. The videos embedded in the course have been carefully chosen so we don't have to wade through dozens of videos ourselves. The quotes by and about the composers are enlightening. The brief quizzes that follow each lesson help your student to focus. The curriculum is perfect for a once-a-week course and is highly enjoyable for students and teachers alike.
~Melanie Wilson, homeschool mom of 6 and blogger at Psychowith6.com 

It's nice to have one fewer thing to plan- especially when the subject is one I'm not familiar with anyway.
I can hear an objection coming. "Well, couldn't I just hunt up the information about the composers in books and online? And couldn't I find all the YouTube videos so that we could watch and listen to all the music? And then I wouldn't have to buy a course." Well, yes, you could do that. But, do you have any idea how many hours it would take you to plan? I do because I've tried to do music appreciation that way before. Trust me. It's not worth it.

This course is more than worth the cost because all of the planning is already done. All of the information has been found and presented in a very clear, concise, and easy to understand way. All of the videos have been chosen and previewed and are presented with comments about their content. The printable pages have already been created and are ready to be used. It's all done for me. All I have to do is give the kids the computer and check up on their work later. That's awesome, my friend!
   ~Leah Courtney, homeschool mom of 4 and blogger at As We Walk Along the Road

20th Century Music Appreciation
Music Appreciation: Middle Ages thru Classical Period
15-Minute Music Lessons
Intro to Musicals
10 Weeks of Shakespeare: Introductory Course for 7th-12th Grades
Music Playlists for Homemaking
100 Delightful Classical Music Pieces Mini-Course