If you have followed Music in Our Homeschool for a while, you know that SQUILT (Super Quiet UnInterrupted Listening Time) is one of my FAVORITE companies for providing musical learning for your homeschool. Mary has a new product in her store. It's the Meet the Instruments Bingo game!
My kids had a ball playing it the other day. There are 6 different Bingo cards, so we printed them out and brought out the laminator. Also included is a sheet that lists all the instruments for the caller to use. There are 26 in total, and 24 on each Bingo card.
Meet the Instruments: Exploring the Orchestra is SQUILT's biggest seller, and it's a perfect companion for the Meet the Instruments BINGO game. You can use the links in it or individual instrument cards to teach your kids what each instrument is called and how it sounds.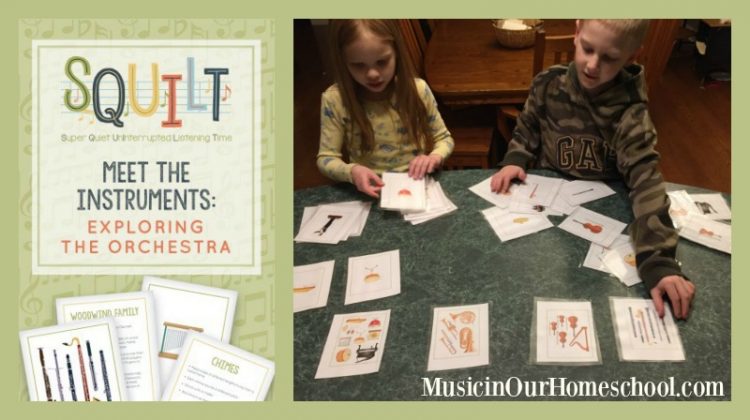 Meet the Instruments Bundle
The Bingo game is sold alone, but it is also part of the new Meet the Instruments BUNDLE. The bundle includes Flash Cards (and a resource page with curated videos and teaching instructions), Matching Cards, and the BINGO game!
What is Learned Through the Meet the Instruments Bingo Game
As they are playing the Meet the Instruments Bingo Game children are learning the look and sound of the instruments, how to spell them, what family they belong to!
Who Can Use the Meet the Instruments Bingo Game
Meet the Instruments Bingo game is especially good for co-op classes or classrooms (music or otherwise) at a school. Families at home will enjoy it, too. After I played with my kids, they continued playing with each other, taking turns being the caller!
Special Pricing
The Meet the Instruments Bingo game is only $8!
At this time of year, you may be planning your curriculum for next year – or you might just need something fun to change things up a bit in the spring. SQUILT can do just that!
Related Posts:
(This post contains affiliate links.)