Almost thirty years ago I started to do some research on early childhood music and movement. I learned about what a great thing it is for kids to listen to, move to, and play with music at an early age. I was certified in Musikgarten, a company that trains teachers and produces materials for teaching early childhood music and movement classes. And I've been teaching young kids with this curriculum and techniques ever since! Today I'll share Why and How to do "Music and Movement" With Your Preschoolers.

Disclosure: I get commissions for purchases made through affiliate links in this post.
Why do Music and Movement With Your Preschoolers?
How to do Music and Movement With Your Preschoolers
Listen to Great Musical Classical Works:
You can find almost anything you want on YouTube, Spotify, or the library, so you don't have to purchase any CDs if you don't want to.  It's fun for the kids to watch the instruments playing the music on YouTube, but I also encourage you to turn on your classical station in the car occasionally as you're driving around town.  Here are a few favorites:  Beethoven's Fifth Symphony, Mozart's Eine Kleine Nachtmusik, and Bach's Brandenburg Concerto No. 3.  Listening to classical music will help them lengthen their attention spans.
Dance:
Preschoolers love to dance.  If they are light enough, hold them in your arms and dance with them!  A great way to encourage them to use their whole bodies is to give them a scarf to dance with.  (You can pick up some light material to cut into scarves at a craft store.)  Model for them how to use their arms and try different movements with the scarves.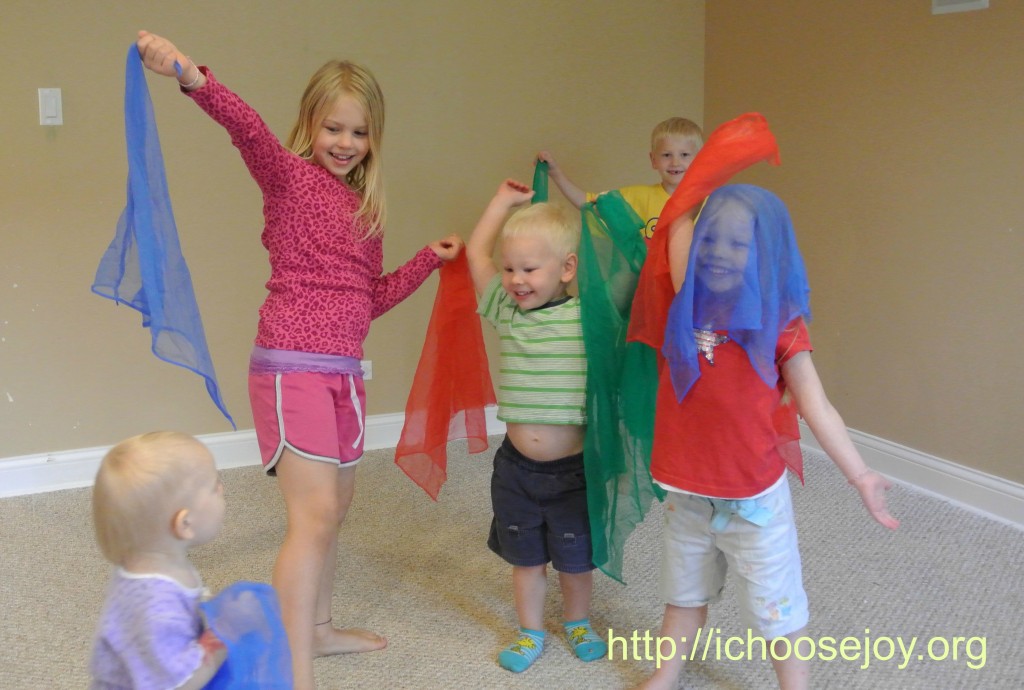 A few really fun pieces of music to play are Hoedown by Aaron Copeland where the kids can gallop like horses and Carnival of the Animals by Camille Saint Saens where the kids can act like lions, fish, birds, elephants, swans, and other animals.  Along with practicing moving their bodies to the rhythm of the music, they are also working on gross motor skills.
Play Simple Rhythm Instruments:
You can find kits of kid-friendly percussion instruments—or you can even make some yourself!  Some great instruments for preschool kids are rhythm sticks, shakers, tambourines, bells attached to a stick or band, and hand drums.  Demonstrate how to keep a steady beat with the music and then play along together!  I love to use these pieces which have a strong steady beat:  Tchaikovsky's March from The Nutcracker, John Philip Sousa's Stars and Stripes Forever, and Scott Joplin's The Entertainer.  Learning to play with a steady beat is a basic component of playing an instrument when they grow older.

Play Singing Games:
Do you remember playing London Bridge, Ring Around the Rosy, and The Farmer and the Dell when you were little?  I love using singing games to get kids to play and learn at the same time.  They are learning to follow the rules of a game and will often start singing without even realizing it.  Get the whole family involved!
Use Musik at Home for Music and Movement:
Let Kathryn of Musik at Home help teach you and your kids!
What are your favorite ways to do "music and movement" with your preschoolers?
Free Preview of Music Lesson Ideas and Printable Pack for PreK Through 1st Grades:
Related Posts:
Nutcracker Fun:
Early Childhood Resources Giveaway:
I'm thrilled to be sharing a giveaway today to help you homeschool your little ones. You'll find resources to teaching you preschooler to read and count, to sing song great classic folk songs, to learn about their community and the human body, and more!
Thanks to these amazing bloggers and brands that love supporting the homeschool community, we're able to give back to homeschool families in the best way! 
Check out this AMAZING Prize package!
| | |
| --- | --- |
| | Gnome Counting Books Bundle from In All You Do – These counting books will help your child learn counting to twenty, recognizing numbers and number words, recognize sets under ten, and writing the numbers 1 – 10 through a variety of themed pages. With this bundle, you'll have fun counting practice pages for holidays and celebrations throughout the year! |
| | Reading Better Together Learn to Read Curriculum from Homeschooling 4 Him – Teach your child how to read while inspiring them to love reading for a lifetime with the Reading Better Together Curriculum. This curriculum features scripted, science backed lessons that tell you exactly what to say while teaching your child to read, and exciting books that you and your child can read together starting in week 2. You will also receive lifetime access to our support community so you can ask questions and get support throughout your child's reading journey. |
| | 10 Songs All Preschoolers Should Know online course from Music in Our Homeschool – "10 Songs All Preschoolers Should Know" is for moms of preschoolers who are struggling to find the "good old songs" perfect for 2- to 5-year-olds. This course brings it all to you in the easiest manner possible! Your younger kids will sing and enjoy the songs right along with you and will enjoy the "musical" printables that will help with fine motor skills such as coloring and cutting. |
| | Rabbit Trails through Literature: Preschool from Rabbit Trails Homeschool – Go down the Rabbit Trails in your home by reading great books to your preschooler with Rabbit Trails through Literature! This preschool curriculum will get your little one hands on and excited to learn, beginning a lifelong love of learning. |
| | Alphabet Fine Motor Bundle from Simple Living. Creative Learning – The mats and cards in this Alphabet Themed Fine Motor Bundle are great for working on fine motor skills which is an important skill for kids in preschool and kindergarten. They will enjoy learning to control their hand, fingers and thumb movements which they will need throughout their life. |
| | Community Helpers Bundle from Homeschool Helper Online – Your preschool, kindergarten, and early elementary students will learn about many different workers in their community through two weeks of lessons, hands-on activities, books, and videos. This 120-page bundle contains: The 2-week multi-subject unit study, Emergency 911 pack, Me on the Map pack, Community Helpers Copy & Color pack, Community Helpers Hats pack, and "When I'm Grown Up" emergent literacy book. |
| | Storytime Lessons Bundle from Hope In The Chaos – Show your child just how powerful their favorite stories can be with Storytime Lessons! Together, you are going to harness the power of classic tales and add in engaging lessons created with your child in mind. Each edition of StoryTime Lessons is built around a classic children's book and uses the text to help teach and reinforce foundational skills including reading, writing, and the love of a great story. Containing the first 2 editions in the series, you are going to love how simple learning with Storytime Lessons can be. |
| | Junior Scientist Science Study: Human Body from Living Life and Learning – Your young learner will love learning about their own body. And with the Human Body Activities for Early Learners, you can help them do just that. With lapbook pieces, tracing and writing, puzzles, matching cards and fun diagrams, your little one will have fun learning about all the systems of the body. |
| | Lacing Card Bundle from Special Needs Homeschooling – Download this bundle of lacing cards to print and laminate. Help your child work on fine motor skills as well as visual and spatial discrimination. |
Learn more about each of the 2023 Early Learning Giveaway Sponsors
This giveaway wouldn't be possible without our amazing sponsors! We encourage you to visit their site and take a look around at all their wonderful products perfect for homeschoolers!
Thanks to these amazing bloggers and brands that love supporting the homeschool community, we're giving away more than $375 in Early Learning Aged prizes!
Want to enter to win? Simply enter by following as many sponsors and partners on the form below, and you're in it to win it! 
You are responsible for reading the Terms and Conditions before entering. Entering this giveaway confirms that you have read and understand the terms.