I'm a musical mom and love that our home is continually filled with music. I hear my son singing or playing guitar in the basement, my daughter practicing piano, another working on her musical theater audition son, and another son practicing cello. My youngest daughter is dancing around making up her own songs! But, I know other mom may need a little help in this area, so here are 5 totally fun ways to bring more music into your homeschool.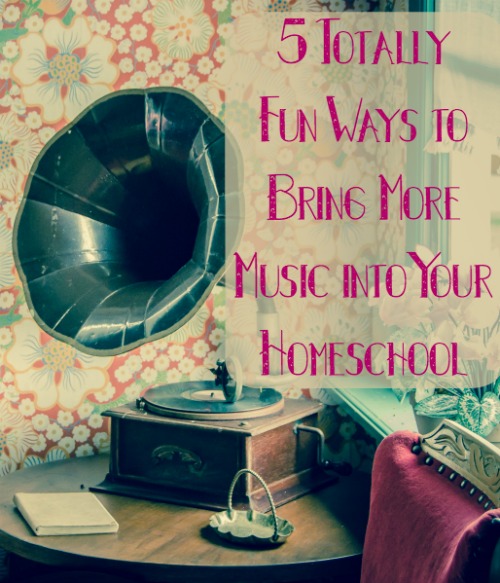 Learn an instrument together
Now, you can get really elaborate with this one and buy a piano or rent some violins to start taking lessons. But, there are lots of simpler ideas! Have you thought of learning to play the ukulele, or an ocarina, or the recorder? You can even use the brand new Still Singing: Hymn Stories for Every Season to learn to play hymns on a slide whistle!
Watch a movie musical
It's so fun to have a family movie night. Perhaps you already do this. We have had some fun times watching some newer animated musicals such as Sing!, Zootopia, and Tangled. But, if you haven't already, it's time to introduce your kids to some classic movie musicals such as Annie, The Music Man, and Newsies. See the Top 10 Musicals to Watch with Younger Kids here. Or, if you have teens, see 15 Must-See Movie Musicals for High School Students.
Go to a performance
When was the last time you went to a live music performance? There are so many different options of music styles, venues, and even ticket prices. Check out some free ones at "concerts in the park" during the summertime or at your local library. Another option you may not have thought about is at your local high school, community college, or university. They will have choir, band, and orchestra concerts all throughout the year, and probably some musicals or operas as well. And, then, of course, there are community and professional theaters where you can see the best of the best!
Take a dance class
Music and dance are intimately interwoven. How fun would it be to take a family dance class and learn a new style like ballet, tap, or ballroom dance together? Contact your local dance studio. If they don't have it available, maybe they'll consider adding a class if you can get a few more homeschool families to join you! You might even be able to hire a dance teacher to come to your homeschool co-op to teach some families together there.
Sing together
When our kids were young, we used to sit around and pull out the songbooks and hymn books. My husband would play the guitar, and my kids would play some conga drums, bongos, and the tambourine while we all sang. It's been a long time since we did that. I think we need to bring that tradition back!
My new online music course called "Great Hymns of the Faith" (which will launch August, 2018) includes videos to teach each hymn so that you can sing in 4-part harmony. Wouldn't that be so fun to do with your family?
How will you bring more music into your homeschool this year?
Please share in a comment below. Will you learn an instrument or start singing together as a family, go to some performances, dance, or enjoy some musical family move nights? Maybe, you have a different idea. I'd love to hear your thoughts and suggestions!