I have a very fun musical gift idea to share with you today: Musical Pipes!
Musical Pipes
Disclosure: I received a set of Musical Chimes for free in order to honestly review here. This post also contains affiliate links.
Musical Pipes are a homemade musical instrument by Jay and sold at Etsy that can be used in so many different ways in your homeschool, classroom, Sunday school, or homeschool co-op!
We received the full Musical Pipes Set:
23 pipes of different lengths, labeled with a number and the correct musical note
14 metal strikers
2 wooden mallets
8 foam holders to use for "xylophone" style
a music book called Children's Song Book with 52 songs included
cloth bag to hold the pipes, mallets, and strikers
Children's Song Book
The song book is very handy because it tells you how many chimes you need for each song, and then the song page shows the "music" with the numbers of the chimes. This makes it very easy for the kids to play, even if they can't read music yet.
Some of the classic songs included are "Rock-A-Bye Baby," "Happy Birthday," "Muffin Man," and "Frere Jacques."
Other song books are sold as well, such as Familiar Tunes Song Book and Christmas Song Book.
What I Love About Musical Pipes
I love that the Musical Pipes are handmade. They even have instructions on their website on how to make some yourself!
I love that they are perfect for all ages (age 3 and up)!
The Musical Pipes inspire a type of musical note-reading without kids having to know any music theory yet. I remember starting the piano like this (with numbers), and then it encouraged me to learn to read music later.
Encourages Creativity
My kids started experimenting and improvising almost immediately. I love this type of creativity! One of my kids arranged the pipes out of numerical order to see what they would sound like. Another child started playing two notes together at the same time to see how the two notes harmonized together– or not.
I love that everything is included in the set, especially the carrying bag and foam holders, so I didn't have to search for anything.
Holding the Musical Pipes to Play
It's also a fun feature that each pipe has a cord so it can be held to play! I also thought it might be fun to hang them all from a broomstick to create chimes like you see in an orchestra.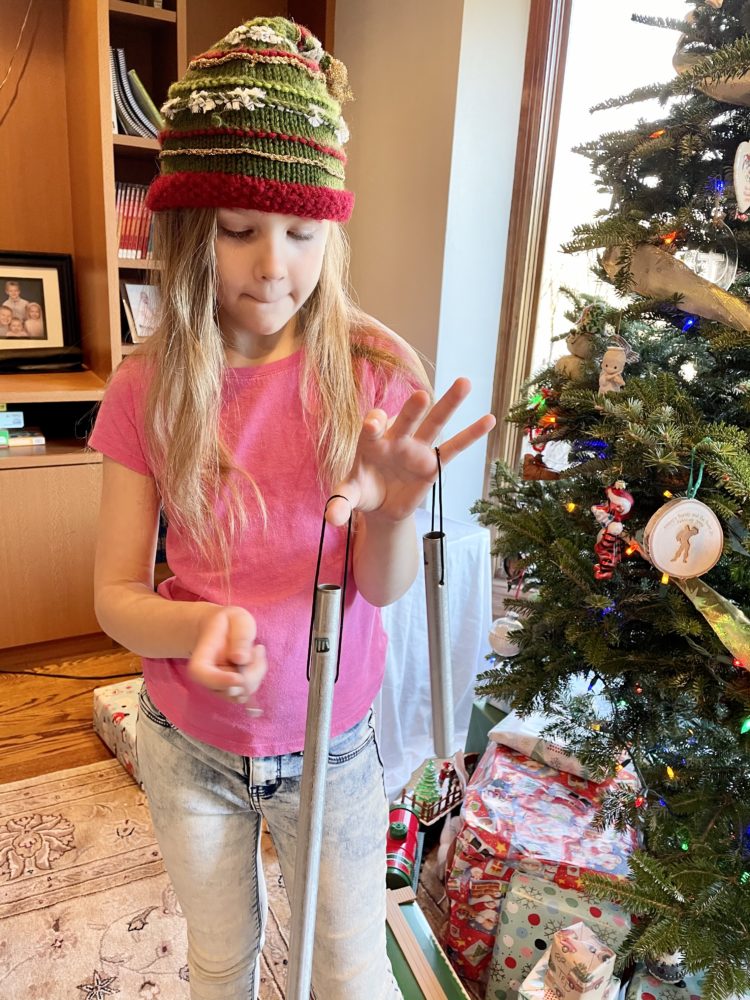 It's a really fun family or group activity, too! Since there are 23 pipes, you can have everyone hold one or two and play a song together. It's like a handbell choir, but WAY more affordable!
Video Review
See this Youtube video review below that my kids and recorded of them playing Musical Pipes. You can also see some songs they played here at this Instagram reel.
Other Etsy Musical Products that Make Great Christmas Gifts:
Related Posts: