Many of you might know that I was an elementary general music teacher for a couple of years before I had my first job. One of my favorite things to do with the students when playing a piece of classical music was to use a listening map. I've often thought of creating some myself since I've been homeschooling but haven't gotten around to it yet. Now, I'm so excited that my fellow homeschooling and music teacher friend Mary Prather has created some SQUILT Listening Maps!
Disclosure: I get commissions for purchases made through affiliate links in this post.
What are SQUILT Listening Maps?
SQUILT stands for Super Quiet UnInterrupted Listening Time. Now, I know that listening to classical music can be a chore for some children. It's so different from the music they are typically used to listening to. That's what makes Listening Maps so awesome!
Here's how it works. While listening to the piece, a student uses the "map" to guide them through the piece. This photo shows a listening map that my daughter put together for listening to the Allegro movement from Vivaldi's Spring (from The Four Seasons).
You can see how certain sections keep repeating, such as the "A" and "B" sections of the music. In the little trees, you can also see an "f" or a "p." This is showing the students that they will hear the music as loud (f) or soft (p). The "C" section shows a lake and mountains to help the student know it sounds more peaceful there, and the "D" section will sound like a storm!
See how fun these are!
Get SQUILT Listening Maps for only $24!
How to Use SQUILT Listening Maps
One thing that's very exciting about the SQUILT Listening Maps is that you can use them in a variety of ways.
Use the included videos to listen to the music as it changes to the next picture of the map for you on the screen. This is sooo helpful for a mom who doesn't know classical music well herself as it shows you exactly when you are at the next part of the music!
Have the students cut out the pictures of the map and paste them on a piece of paper. They can use this map to point to each new section while listening.
If you have an older or more experienced student, have them listen to the piece and try to figure out how the map works without your help. It will train them to listen carefully and analyze the music on their own.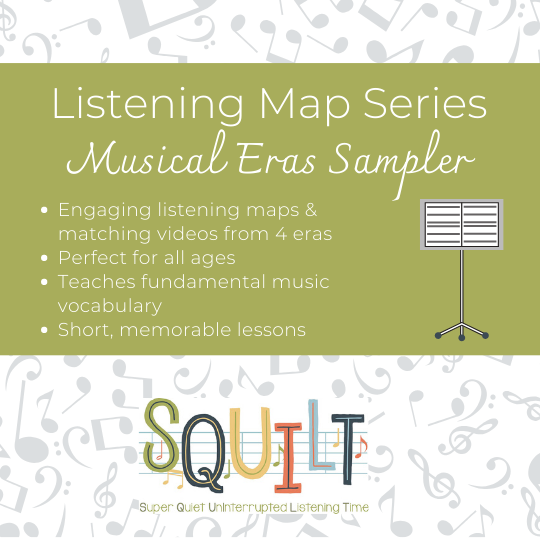 What's Included in the SQUILT Listening Map Series
The SQUILT Listening Map Series: The Musical Eras Sampler includes 8 printable listening maps and matching videos to help children follow the map. The pdf printable pack contains 40 pages, and the links to the videos are included right in it.
A listening map is a graphic representation of a piece of music. These maps make it simple for children to learn about form, instrumentation, and many other aspects of a piece of music.  A little background information is also given for each piece, along with other listening links and the SQUILT signature "Draw What You Hear" sheet.
I love that kids will learn new musical terms such as trill, concerto, etude, coda, and syncopation.
The product is perfect for ALL AGES, and for MULTIPLE AGES LEARNING TOGETHER.
Pieces studied:
There are 2 pieces from each of the four eras of music: Baroque (1600-1725), Classical (1725-1800), Romantic (1800's), and Modern (1900-present).
Vivaldi: Spring from The Four Seasons
Handel: Music from the Royal Fireworks
Mozart: Variations on a French Nursery Theme
Beethoven: Für Elise
Chopin: Black Key Etude
Strauss: Pizzicato Polka
Joplin: Maple Leaf Rag
Anderson: The Waltzing Cat
When to Use a SQUILT Listening Map
During Morning Time, Circle Time, or Tea Time
Music Class at a homeschool co-op (up to 20 children)
Anytime you have 10 minutes!
 

Get SQUILT Listening Maps for only $24!
My Final Review of SQUILT Listening Maps
I've already done the Vivaldi piece with my elementary kids, ages 7, 9, and 11. I'm really looking forward to doing the other seven pieces with them during our music time, which we do a couple of mornings each week. I love that this is a tactile (physical) activity that will really bring the understanding of the music to life for them!
Related Posts: