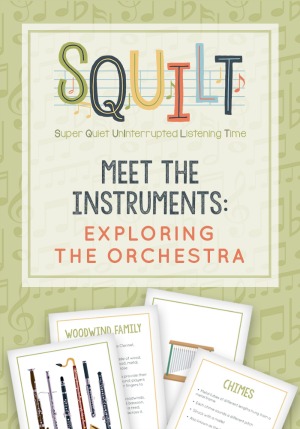 A brand new product from SQUILT is out this week called
You will definitely want to head over and pick this one up! It comes as a PDF download of beautiful cards of the instruments with information on the back for your kids to learn about.
You also get a link to a password-protected site that includes all the videos to watch and listen to as you learn about the instruments.
And all for only $16!
–>Get Meet the Instruments: Exploring the Orchestra now <–
I laminated our set of cards and had fun quizzing my kids to see which ones they already knew the names and families of. Next, I showed them how to use the resource page to listen to the music that displays each instrument or family. That way they can do it on their own!
I'm pleased with the instruments that were chosen for this collection. It covers all the basic instruments of the symphony orchestra. The graphics and colors are so pretty. The only thing I would prefer would be for them to be actual photographs instead of drawings.
Here are some pictures of them exploring the cards–organizing them into families–and listening to the music on the videos:
Matching Cards
There is also a set of 30 pairs of Instrument Matching cards that are only $6!
Related Posts:
(Disclosure: I received a complimentary copy of Meet the Instruments in order to honestly review it here. This post also contains affiliate links.)