Meet the Composers: Exploring Great Music
Meet the Composers: Exploring Great Music, the newest from SQUILT, is an awesome product that parents, homeschool teachers, and music teachers are going to love! It's totally open-and-go, so easy to use, and fun and educational at the same time! The price is perfect, too!
Meet the Composers Flashcards
Meet the Composers from SQUILT gives children of all ages an overview of music history from the years 1600-present. You get a set of 30 Composers Flashcards that have a photo of the composer on one side (in black and white to save on printing) and a description on the back. The description includes their name, dates, musical era, nationality, interesting facts, and two compositions the composer is known for.
The file with the Composers Flashcards is delivered to you as a PDF file, and the cards are designed for easy, double-sided printing. Use cardstock and laminate so they'll last even longer!
Which composers are included?
Pachelbel
Couperin
Vivaldi
Purcell
Handel
Bach
Boccherini
Haydn
Mozart
Clementi
Schubert
Beethoven
Chopin
Berlioz
Wagner
Liszt
Brahms
Verdi
R. Strauss
Tchaikovsky
Ravel
Scott Joplin
Stravinsky
Bartok
Khachaturian
Gershwin
Bernstein
Copland
Webber
John Williams
You also receive access to a Password-Protected Resource Page that contains:
Over SIXTY curated videos demonstrating the works of THIRTY composers

Teaching Suggestions

Game Suggestions

Additional Printables for Enhancing Learning
The videos match perfectly with the Composer Flashcards, showing a performance each of the famous works that are listed on them. The first video teaches kids about how a composer writes a piece of music. This resource page is great, and you get access to it in the PDF file with the flashcards.
Get Yours Today!
Or check out a free sample!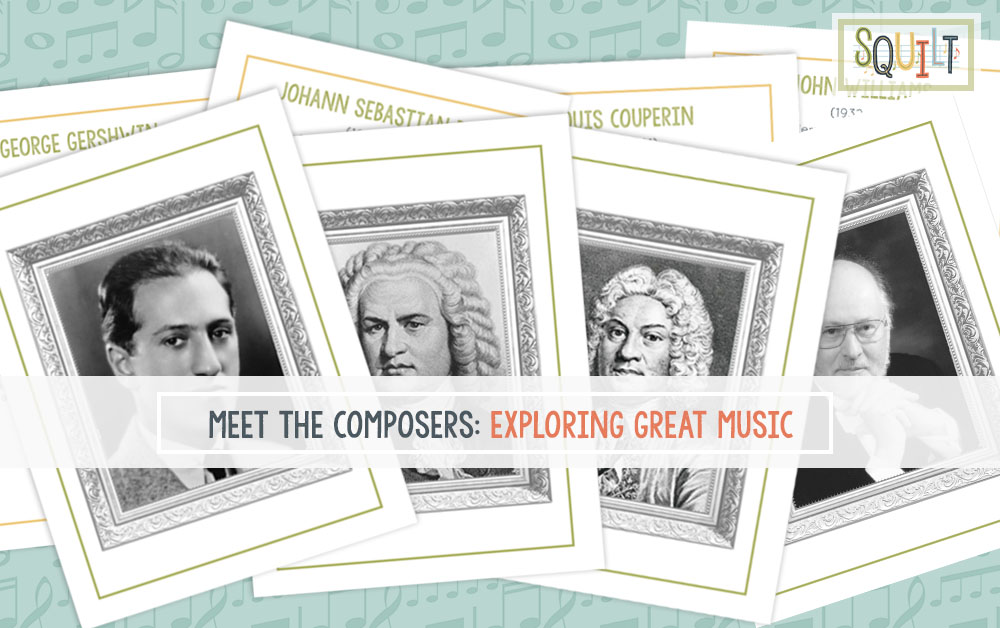 All of the SQUILT products are designed to work together or can stand alone.
See my other SQUILT reviews below. I also highly recommend Meet the Instruments!
Other SQUILT Products to check out:
(Disclosure: I received a complimentary copy of Meet the Composers in order to honestly review it here. This post also contains affiliate links.)