As I began to write this post, it didn't take me even an hour to come up with way more than 100 songs every child show know! One of my most favorite classes in college was Elementary Music Methods, and one of my most favorite jobs was elementary (K-4) music teacher at Willie Brown Elementary school in Mansfield, Texas. I taught some of these songs to my students, and today I'm happy to share them with you.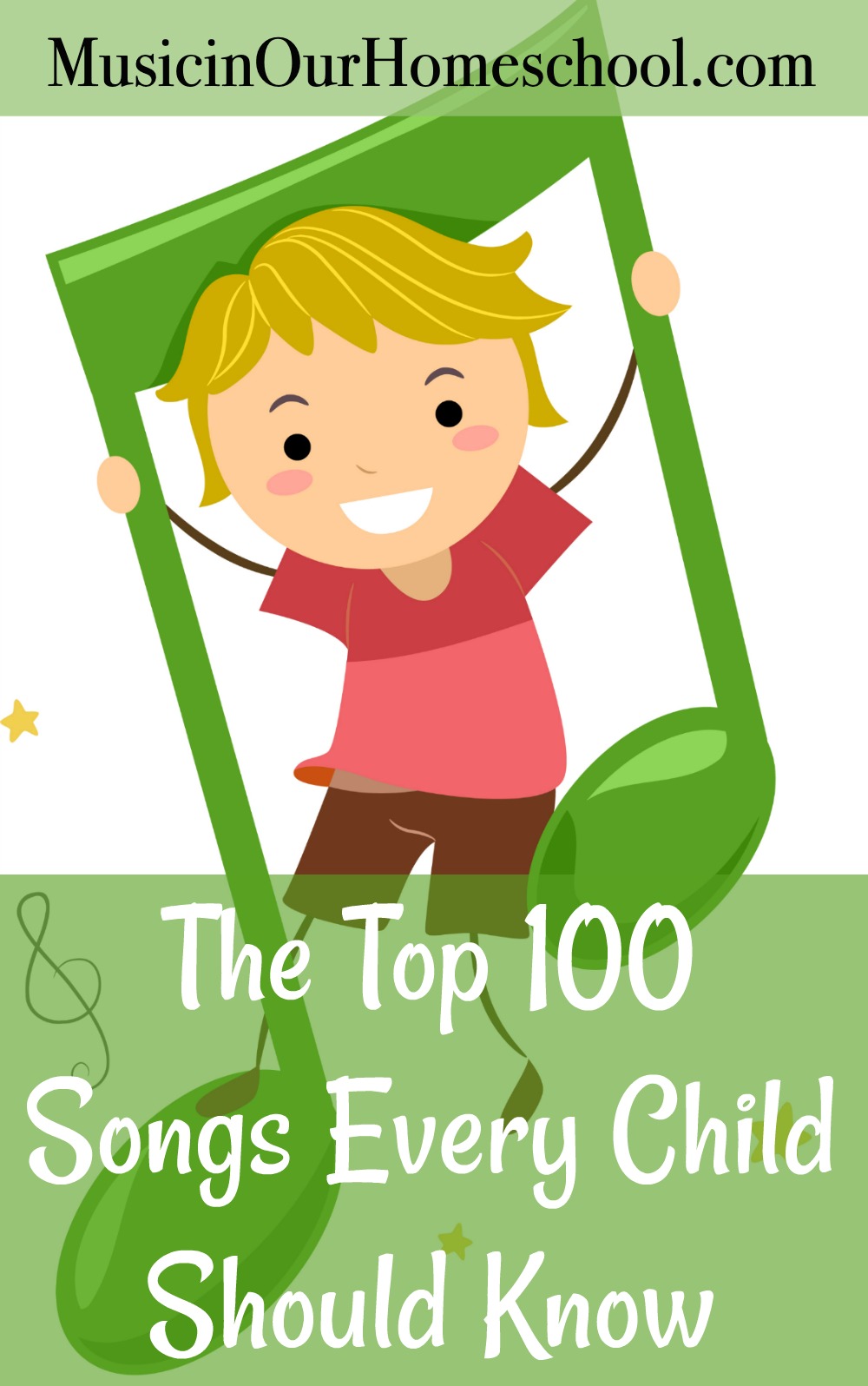 The Top 100 Songs Every Child Should Know
The songs below are linked to a YouTube video so you can learn it and teach it to your kids. It was my goal to include a variety of types of videos. Some modern, some old, some specifically made for kids, and others not. I hope you enjoy the mixture! (As usual, if you are extra careful about the content your child sees or hears, please preview each video first.)
Scroll to the bottom to download a printable version of this list.

Folk Songs
Inch by Inch (the Garden Song)
I've Been Working on the Railroad
Make New Friends But Keep the Old
She'll Be Comin' Round the Mountain
There's a Hole in the Bottom of the Sea
Get 25 FREE online music lessons here: 
Patriotic Songs
Hymns and Christian Songs
Come Thou Fount of Every Blessing
He's Got the Whole World in His Hands
What a Friend We Have in Jesus

Spirituals
When the Saints Go Marching In
Lullabies
Hush Little Baby, Don't Say a Word
Lullaby and Good Night (German Cradle Song/ Brahm's Lullaby)
Preschool Songs
Head, Shoulders, Knees, and Toes
If You're Happy and You Know It
You'll love my online course
Historical Songs
Christmas Carols
See MANY Christmas Songs in this course
Other Holiday Songs
Over the River and Through the Woods
Cowboy Songs
Help your kids learn to sing with this online course
Songs in Other Languages
Did I miss any of your favorite songs? Leave a comment below to let me know!
Related Posts: