19 Ways to Use Music to Bring Peace and Joy to Your Home:
1. Compile a few music playlists and have them ready for different situations.
2. If tensions are running high and keep getting higher and higher, call everyone over to just sit down in the living room for a while in silence with their eyes closed and just listen to the Peaceful Playlist for 5 minutes.
3. Take the focus off yourself. Use a Worship Playlist of music to bring you closer to God so He can guide your decisions or emotions.
4. Play a Joyful Playlist to add energy and fun to a not-so-fun activity or task.
5. Create a playlist of your favorites so you can sing!
6. Have a karaoke session with your kids.

7. If you're having a rough day, put on your dancing playlist and just spend some time dancing together.
8. If you or your kids already know how to play an instrument, this is a great way to calm down after a stressful day or situation.
9. There are other types of instruments that anyone can play that bring peace or joy as well. Try drumming or playing a xylophone.

10. Play a music playlist that brought you joy or peace in the past to take you back to those times.
11. See my playlist entitled Study Playlist for some great music to listen to while you study.
12. Music can also help you remember that there is meaning to your life.
13. Don't play music that makes you feel agitated, stressed, or unsettled.
14. If things are getting stressful in the car, be sure to play your peaceful playlist there.
15. Put on music in the shower!

16. Another type of peaceful playlist includes the sounds of nature.
17. Try listening to 45 minutes of peaceful classical music before bed to improve sleep quality.
18. Share musical experiences with your kids to have better relationships with them.
19. Study music with your kids.

**Do you have any other ideas for how to use music to bring peace and joy to your home? Share them in the comments!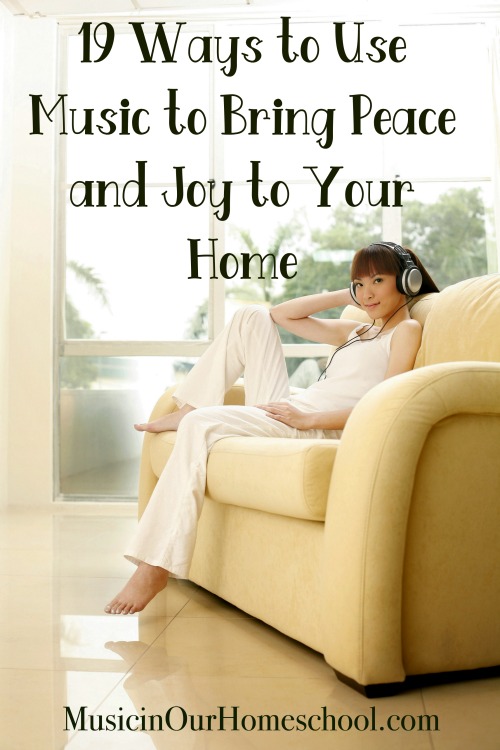 Handout:
Download the handout here:
Handout for How to Use Music to Bring Peace and Joy to Your Home
Ready-Made Playlists
One of the easiest ways to use music to turn around the atmosphere of your home is to have some ready-made playlists that are ready to go at a moment's notice. Below, I've included links to four ready-made playlists that I've used, so you can implement this technique today!
Peaceful Playlist:
Click here to find the ready-made Peaceful Playlist on YouTube.
Cantabile in D Major for Violin and Orchestra, Op. 17 ~ Paganini
Moonlight Sonata ~ Beethoven
Carnival of the Animals: The Swan (Le Cygne) ~ Saint Saens
Raindrop Prelude ~ Chopin
Klavierkonzert Nr. 21 C-Dur, K. 467, "Elvira Madigan": 2. Andante ~ Mozart
Concerto in C Major for Flute, Harp, and Orchestra, K. 299 ~ Mozart
Violin Concerto in D, Op. 35: II Canzonetta. Andante ~ Tchaikovsky
Piano Concerto No. 2 in F Major, Op. 102 II. Andante ~ Shostakovich
Beau Soir, L. 6 (Arr. Gretchaninov) ~ Debussy
Cello Sonata in G Minor, Op. 19: III. Andante ~ Rachmaninoff
Gymnopedie No. 1 ~ Erik Satie
Clair de Lune ~ Claude Debussy
These downloads from the Peaceful Playlist are from the Royalty-Free Music site Musopen.org:
Worship Playlist:
See the ready-made Worship Playlist on YouTube here.
Joyful Playlist:
See the ready-made Joyful Playlist on YouTube here.
Rhapsody in Blue
Sing, Sing, Sing
A Million Dreams
Greatest Showman Theme Song
Another Day of Sun
Study Playlist:
See the ready-made Study Playlist on YouTube here.
Piano Concerto No. 23 – Wolfgang Amadeus Mozart
Goldberg Variations – Johann Sebastian Bach
Eine Kleine Nachtmusik Allegro ~ Mozart
Canon in D – Johann Pachelbel
Mozart Symphony No. 40
Download a Free Music Wordcloud here:
Bibliography:
(Disclosure: This post contains affiliate links.)