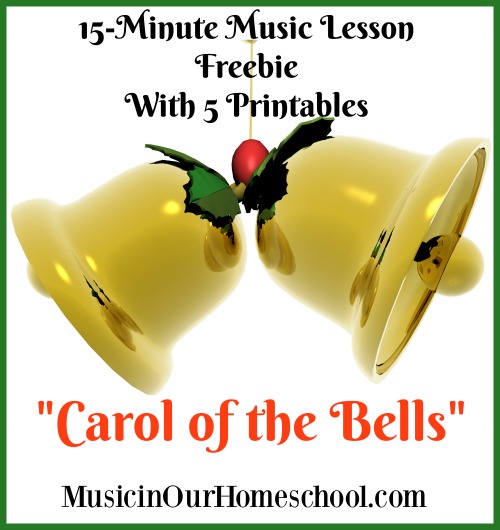 One of the prettiest and most versatile songs of the Christmas season is the song "Carol of the Bells." Today, enjoy a 15-Minute Music Lesson on "Carol of the Bells" with your students to learn where the song originated, listen to several different versions, and use the included 5-page printable pack.
"Carol of the Bells"
The original tune of "Carol of the Bells" is from a folk song of the Ukraine. The composer Mykola Leontovych used it to write his new version in 1914. The story of the song was of a swallow entering a home to proclaim a prosperous new year for those who lived there. It was first performed by students at Kiev University in 1916. Popularity grew when it was performed in the United States at Carnegie Hall in New York City in 1921 by the Ukrainian National Chorus. They sang it a cappella (with no instruments) with a 4-voice choir. A 4-voice choir consists of soprano, alto, tenor, and bass. Soprano is the higher female voice, alto is the lower female voice, tenor is the higher male voice, and bass is the lower male voice.
Listen to the original: Shchedryk, the carol sung for 'Bountiful Eve' on January 13, just before the New Year by the Julian Calendar which Ukrainians follow.
New English words were written and copyrighted by Peter J. Wilhousky (an arranger for the NBC Symphony Orchestra) in 1936. He thought the four-note motif of the song reminded him of bells, so his lyrics begin with "Hark How the Bells." It is now considered a Christmas song since the words "Christmas is here" and "Merry, merry, merry, merry Christmas" are sung in it.
Videos:
"Carol of the Bells" has been performed and recorded in many different ways. Listen to each video below and decide which is your favorite!
4-Voice Boys Choir (a cappella):
4-Voice adult choir with orchestra and handbells:
Handbell Choir (instrumental):
The Piano Guys (for 12 cellos, instrumental):
Mannheim Steamroller (instrumental):
Pentatonix (a cappella):
Download the Printable Pack:
Enjoy these other Christmas/Winter 15-Minute Music Lessons as well: