"Music in Our Homeschool" Website Launch Giveaway
I am so excited to share with you about the incredible "Music in Our Homeschool" Website Launch Giveaway! It's worth over $500!
After you enter, be sure to check out all the awesome posts that are part of the 31 Days of Music in Our Homeschool series.
There are two separate giveaways.
The first is open to all in the continental U.S.
The second is open worldwide (and the winner must be someone outside of the continental U.S.).
Look what you get if you win! Over a $500 value!
I am so grateful to all of these sponsors for offering their products for the giveaway. If you see them on social media, tell them thanks!
For the worldwide giveaway, you'll receive the following as digital downloads: A $90 Value!
Here are the details on the products:

Hymn Study 3-Pack from Not Consumed ($25 value)
The Hymn Study Pack from Not Consumed contains 3 studies of hymns for Thanksgiving, Christmas and Easter. Count Your Blessings is a 3-week study, Gloria is a 92 pages long, and When I Survey takes you on a 12-day hymnological journey to the cross. Copywork and activities are included in these hymn studies.
Lifetime Access to HomeSchoolPiano ($299 value)
Willie is an awesome piano teacher, and you can get access to all his online lessons at HomeSchoolPiano. It includes all books to print out for the lessons. He is a fun and talented teacher. Your kids (or you) WILL learn to play piano with HomeSchoolPiano!
Famous Composers Notebooking Set from Notebooking Pages ($5.95 value)
The ebook collection from NotebookingPages.com contains 286 notebooking pages with 10 notebooking layouts in primary and regular-lined formats for 28 famous composers. You can use these sheets in a variety of ways and for all grade levels!
SQUILT music appreciation volume of your choice.
SQUILT stands for Super Quiet UnInterrupted Listening Time and is an open-and-go music appreciation curriculum. Choose from the Baroque, Classical, Romantic, or Modern ebooks. Each contains 10 musical pieces to study, with listening pages and other printables, along with links to all the music to listen to for free!

The Maestro Classics "The Nutcracker" CD has the music of Tchaikovsky condensed to one hour and played majestically by the London Philharmonic Orchestra. The story is exquisitely narrated above the music by Jim Weiss. This physical Cd also includes an activity guide, and there is a free accompanying unit study on their website.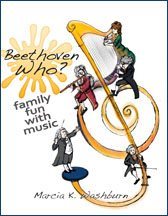 Beethoven Who? music appreciation course ($29.99 value). 332 pages. With this one-year course, you'll learn to use the vocabulary of music, find appealing classical, folk, patriotic, and sacred music, and enjoy fun hands-on activities with your children as you explore music together.  There are teaching tips and links for listening and activities to teach pitch, rhythm, form, dynamics, tempo, and musical terms.
21 Lessons in 20th Century American Music Appreciation by Gena Mayo ($25 value). Learn about 21 different American composers and/or styles of the 20th Century. This music appreciation course includes all the YouTube links you need to study each lesson, as well as notebooking pages. The music is so fun. You and your kids will have a blast with it!
Complete set of Famous Composer Quotes Copywork from Homeschool Copywork.
You get a variety of composers and quotes from each in different styles of copywork: dotted so younger kids can trace the letters, printed, cursive.
The Unit 1 Materials from Hoffman Academy online piano courses ($17.50 value) include a listening CD, a practice CD, complete materials for lessons 1-20, a guide to using the listening and practice CDs, and a Parent Guide.  All of this is a digital download. The piano lessons themselves are available free on the Hoffman Academy website- see the first lesson here!
Sounds of the Season Christmas music study ebook by Annette Breedlove of In All You Do ($10)
Here is a great musical study to do around Christmas-time. Learn about 10 Christmas songs in this 68-page ebook. Listening links are included, as well as notebooking pages and Venn diagrams.
Experience History Through Music book and CD set by Diana Waring ($18.99). Read about the songs and the history that goes with it. The soft-cover book is full of photographs, the stories, and sheet music for the songs: "Yankee Doodle," "The Star-Spangled Banner," "Erie Canal,"  "Oh, Susanna," "Sweet Betsy From Pike," "All Night, All Day," "Old Dan Tucker," "Wade In The Water," "Johnny Has Gone For A Soldier," "When Johnny Comes Marching Home," "Shenandoah," "Git Along L'il Dogies," "Drill Ye Tarriers," "Polly Wolly Doodle," "She'll Be Coming Round The Mountain," and "Old Joe Clark."
$50 Gift Certificate from CurrClick ($50 value)
You will find all kinds of different downloadable music education products at CurrClick! Search for lapbooks, notebooking, music history, music appreciation, nursery rhymes, world music, instruments unit study, composer study, etc. You'll find it and can get exactly what you want with a $50 Gift Certificaate!
The Baroque and Classical Composer Collection from Enrichment Studies ($14.95 value) has online lessons through a membership site for the following composers: Vivaldi, Bach, Handel, Haydn, Beethoven, and Mozart.
Enter on the Rafflecopter app for the Website Launch Giveaway below. Only a winner in continental U.S. can win the first giveaway. And only someone NOT in the continental U.S. can win the second giveaway (open worldwide). The giveaway ends January 31, 2016 at midnight CST. The winners will be chosen on February 1 and will have 24 hours to respond to my email. Gena Mayo is responsible for delivery of 21 Lessons in 20th Century American Music Appreciation and the Maestro Classics CD. All other items will be sent directly from the vendor and "Music in Our Homeschool" is not responsible for their delivery.
a Rafflecopter giveaway

(This post contains affiliate links.)