As we enter the holiday season (which sort of starts with Halloween, right?), it's time to think about Christmas music. Do your kids know some of the great Christmas Carols? Well, if you need help in that area, my friend Karen Cadera of Teach Your Child Piano has written a really fun course to learn about Christmas Carols called 'Carolling' Around the World!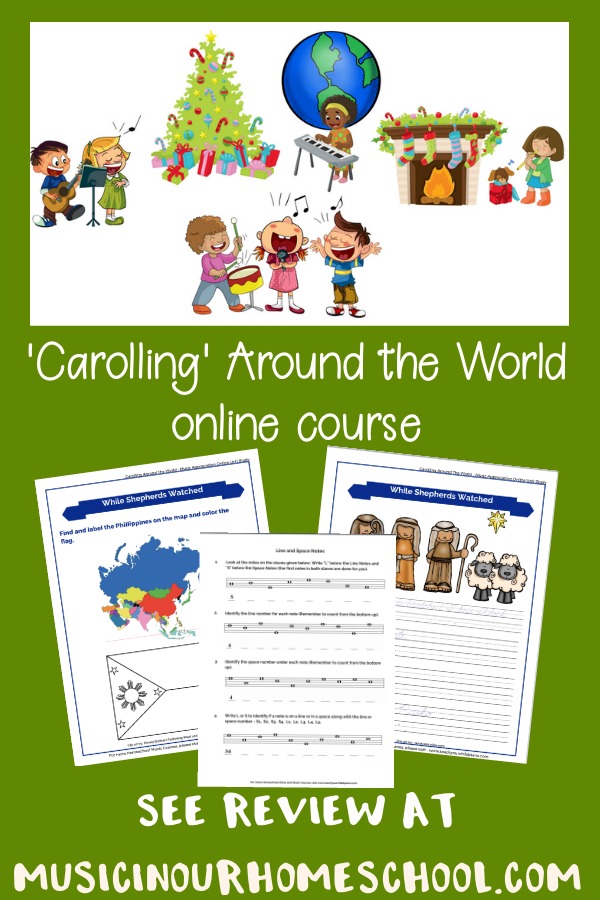 What's in 'Carolling' Around the World?
The 'Carolling' Around the World music appreciation course teaches your kids about 12 of our most beloved Christmas Carols, as well as their histories, the composers and writers who brought them to life and about how Christmas is celebrated in different countries around the world!
Learn about these Christmas Carols:
Hark the Herald Angels Sing
While Shepherds Watched
The Holly and the Ivy
Joy to the World
O Holy Night
Once in Royal David's City
Silent Night
Jingle Bells
Ding, Dong Merrily on High
We Wish You a Merry Christmas
Good King Wenceslas
O Tannenbaum
Learn about these countries and areas of the world:
England
The Philippines
South Africa
Germany
France
Ireland
Austria
North America
Australia
Brazil
Czech Republic
Italy
What I love about 'Carolling' Around the World
First of all, it's hosted at a Teachable site. I LOVE Teachable because it's so easy for the teacher and student to use. The course can be accessed on any device or computer, and even through the Teachable app!
Second, I love the content. This course is very comprehensive. It would be great for your full November and December lessons for music, history (biographies of the composers),  and geography! There are even some bonus graphic design and art projects that you can do for those subjects.
Third, the printable notebooking/worksheet pages are awesome! Your kids will love these for learning more about music, composers, and places around the world.
And, fourth, I love the extras like the videos to hear the music being played and the graphic design and glass ornament projects!
The Nutcracker course:
Also available is. .
Related Posts:
(Disclosure: This post also includes affiliate links.)