As you're preparing your homeschool and curriculum for the new school year, don't forget the music! Today I'm sharing easy and fun ideas to make sure music is a part of your homeschool this year. Includes 25 free lessons!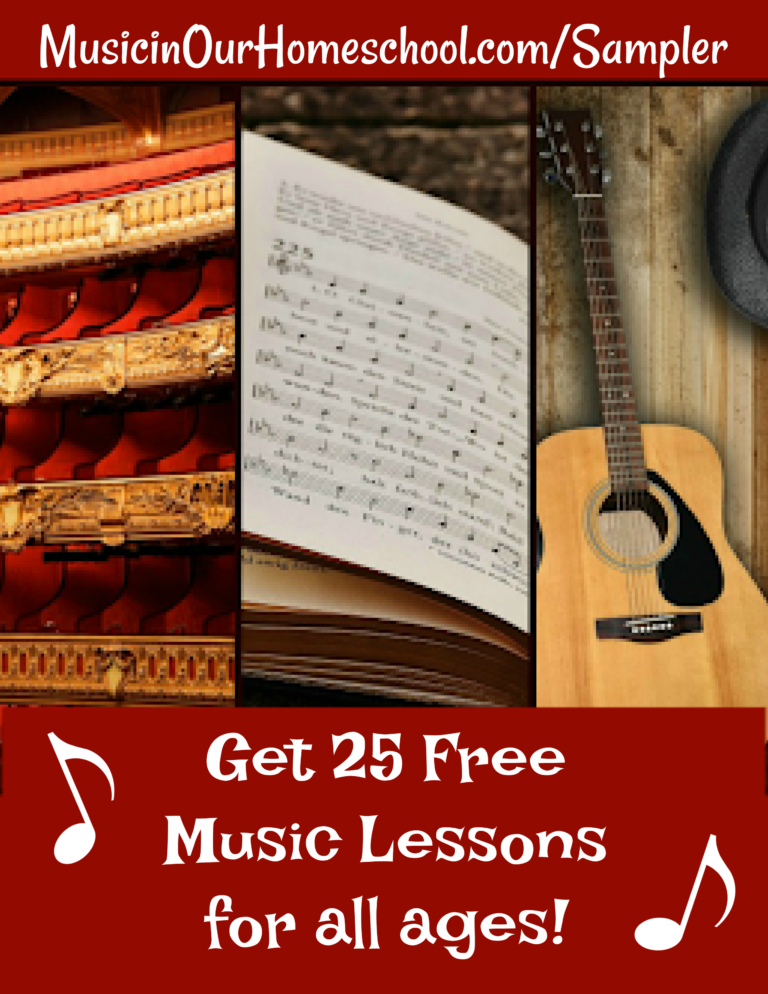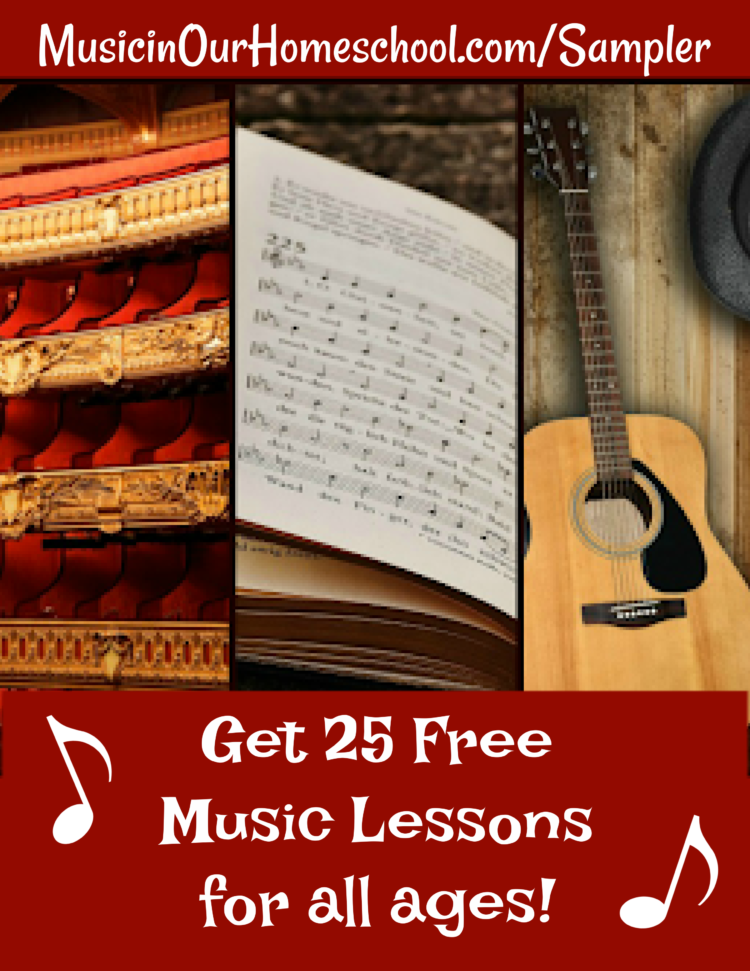 Sampler Music Appreciation
Head here to enroll in the Free Sampler Music Appreciation course
Have some fun taking the Sampler Music Appreciation online course that contains 25 lessons great for ALL ages! It's a $27 value — for FREE!
Composer Study
From the Music Appreciation: Middle Ages Thru Classical Era for High School online course, you'll learn about
George Frideric Handel. The course consists of 18 lessons about the music, genres, styles, and composers of Western Music from 450-1800. You'll learn about Gregorian Chant, the beginnings of musical notation, organum, Medieval church modes, Hildegard von Bingen, Guido d'Arezzo, Josquin des Prez, madrigals, motets, the beginnings of opera, music of the Reformation, Buxtehude, Vivaldi, Bach, Handel, Haydn, Mozart, Beethoven, and many more!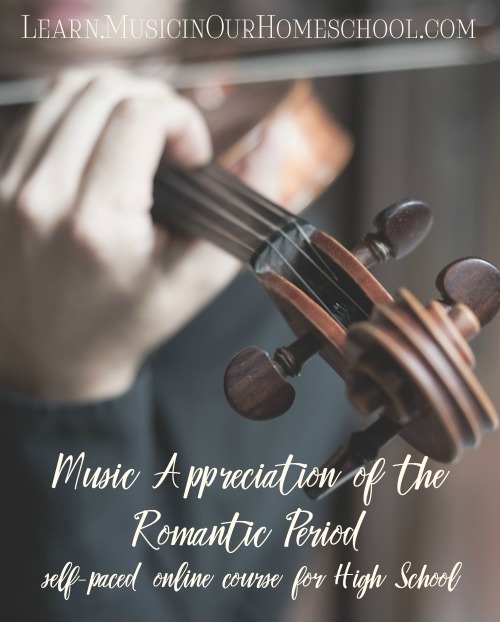 From the Music of the Romantic Era for High School online course, you'll learn about the hilarious British composing team Gilbert and Sullivan. The course consists of 36 lessons about the music, genres, styles, and composers of Western Music from about 1800-1900. You'll learn about Schubert, Liszt, Mendelssohn, Chopin, Rossini, Wagner, Brahms, Tchaikovsky, Dvorak, Stephen Foster, Gilbert & Sullivan, Edward MacDowell, Amy Beach and many more!
From the American Music for Elementary online course, learn about the modern American composing duo Pasek and Paul. This course is a really fun, click-and-go, super easy-to-use online course where your students will be introduced to composers and styles of American Music. Learn about composers from Stephen Foster ("Camptown Races) to Pasek and Paul ("Greatest Showman").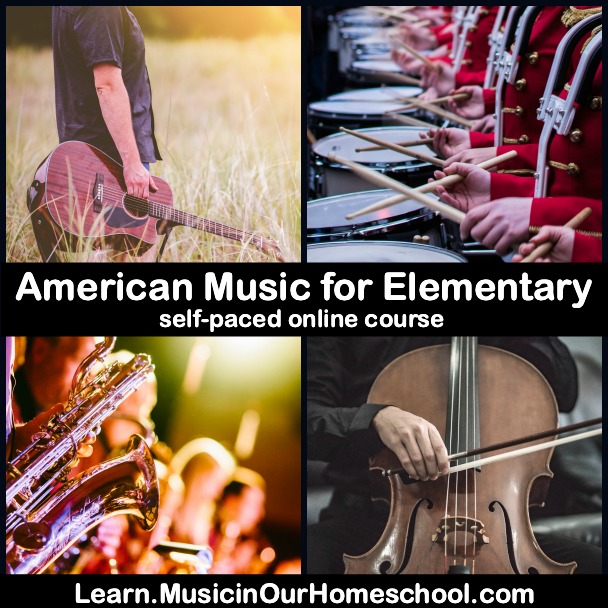 The popular course called A Year of Charlotte Mason Music Lessons has a lesson called the May Composer Study for your to try out for free. This course provides you with a gentle way to do music in your homeschool, the Charlotte Mason way! Two Year's Worth of Lessons are Now Included! Each month, you'll focus on two things: Composer Study and either a Folk Song or a Hymn. You'll actually listen to the same composer for three months in a row (one term) and hear a different piece each week so that your child can "study as far as possible under one master until they have received some of this teaching and know its style," as Charlotte Mason encouraged us to do. Sing the same hymn or folk song for a full month. So, that means three composers with twelve pieces/songs each, plus four hymns and five folk songs for the school year!
Beginning Music Theory
From the Music in Our Homeschool Plus: Elementary Membership Experience try out the Beginning Music Theory course lesson called "Notes of Treble & Bass Clef Manipulatives." Each month as a member you receive new content! What's included?Music in Our Homeschool Plus:
Full Access to ALL Elementary Music Courses at Learn.MusicinOurHomeschool.com (including new elementary courses added during the time you are a member)
Beginning Music Theory Lessons! A highly sought-after course that is only found here in the Membership.
Music Printable Pack Library

A brand new Exclusive 15-Minute Music Lesson from Gena each month
A Monthly Calendar of Music Activities, Games, and Lessons to do each week day.
A Community of Like-Minded Educators to share ideas, ask questions, and post "wins"!
25% Discount to every other course available at Learn.MusicinOurHomeschool.com
From the Fine Arts in Our Homeschool Plus: High School Membership Experience, see a lesson from the Advanced Music Theory course called "Staff, Clefs, Note Names." If you are struggling with finding a way to include Fine Arts on your Homeschool High School transcript, we have you covered with this membership. It's the only place you can get the Advanced Music Theory course!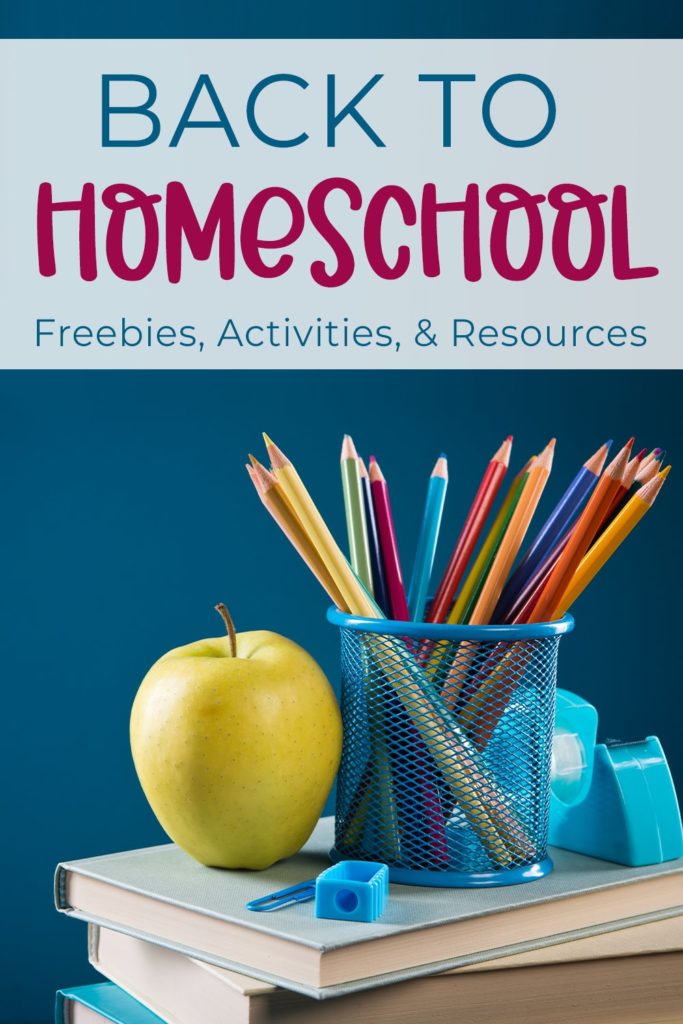 Back to Homeschool Freebies, Activities, and Resources
Is Summertime is winding down for you? Homeschool days will soon be in full swing. As I write this, the first day of our 16th day of homeschool is coming this next Monday!
This week, I'm teaming up with some of my fellow homeschool bloggers to bring you some great Back to Homeschool tips and resources. Be sure to check them all out below!
Top Back to School Worksheets for Your Homeschool from In All You Do
Who loves back-to-school worksheets? There are notebooking pages, journaling pages, and "I Spy" games!
Back to school freebie printables roundup from Hess UnAcademy
This collection of back-to-school freebies includes a Bingo game–fun!
Back to Homeschool Ideas to both Celebrate and Prepare for the Coming Year from This Bit of Life
Sample Text: It's time to get back to homeschool and This Bit of Life has everything you need to help you both prepare and celebrate the occasion! From fun ideas for a back to homeschool party to planning your homeschool day, check out this post full of information to help you get the year started off right.
How to Get Back into Homeschooling After a Break from 4 One More
We always take a break from homeschool in the summer, but it's hard to get back into it! Love these tips from Abby.
How and Why to Use an Eclectic Approach to Homeschooling from The WOLFe Pack
What's your homeschool approach? Mine has always been eclectic.
First Day of Homeschool Tips from Homeschooling 4 Him
Which tip do you like the best?
Ways to Help Your Kids Focus (ADHD) from Whole Child Homeschool
Anyone have a student with ADHD? It can certainly be a challenge. You'll love these tips!
Top Ten Ways to Smoothly Transition Back to Homeschool from Homeschool On the Range
A smooth transition is what we're all searching for, right? 
Start Your New Homeschool Year On The Right Foot from Hope In The Chaos
Transitioning to back-to-school can be difficult. Here are some tips.
Homeschool Room Essentials from Some Call It Destiny
Some great resources for every homeschool are included here.
The Mega List of Free Homeschool Resources from With the Huddlestons
More freebies? Woo-hoo!
Fun First Day of Homeschool Ideas from Simple Living Mama
Oh, I love fun first day ideas! Which is your favorite?
Top Ten Tips – Help For Your Homeschool Journey from Geez, Gwen!
 Encouragement and insight for homeschool families is what you'll find here!
Make A Fun Tradition Around Pancakes To Celebrate from Our Crazy Adventures In Autismland
Pancake fun? Oh, yes! Find it here.
How to Plan Your Homeschool Year in One Day from Heart and Soul Homeschooling
There are some great tips here to help you plan simply, efficiently, and flexibly.
My List of Favorite Homeschool Math Resources from Julie Naturally
Oh, math, it can be the bane of the homeschool mom's existence, but doesn't have to be!
Back to School Deals from The Homeschool Cafe
We homeschool moms all love a good deal!
Homeschool Organization Without a Homeschool Room from An Off Grid Life
You don't need a homeschool room? Really? Yes!
The Pros and Cons of Open-and-Go Curriculum from Thrive at Home
Have you tried an open-and-go curriculum? There are some good and bad things about it–learn more here!
Meal Planning for Homeschool Moms from My Joy-Filled Life
Meal Planning is essential for a peaceful homeschool life.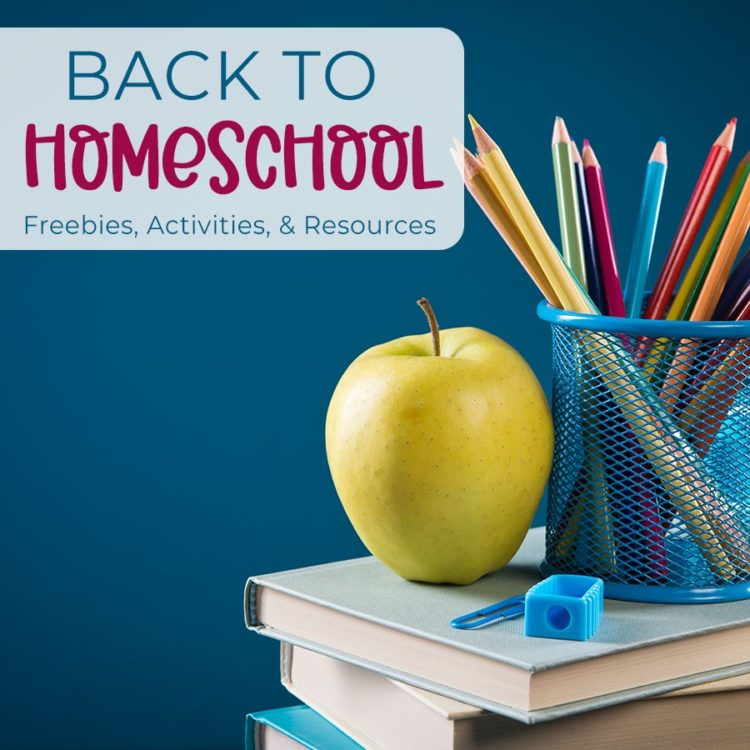 Related Posts: