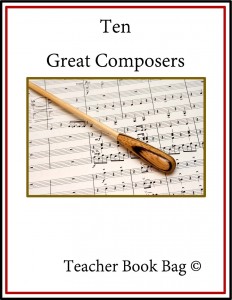 Here's a great deal! Get the Ten Great Composers Bundle from "Teacher Book Bag" for only $4! That's 60% off. Head over to CurrClick to pick it up and start learning about these 10 composers:
Vivaldi
Chopin
Handel
Puccini
Verdi
Stravinsky
Bach
Beethoven
Tchaikovsky
Mozart
Each set contains a biography, timeline, fascinating facts, reflections page, flashcards, puzzle, lapbook, and coloring pages!
Check here for more Music Products at CurrClick.
(Disclosure: This post contains affiliate links.)