Been searching for beginning singing lessons for your homeschool? I'm thrilled to bring Singing Made Easy ~ Level 1 to you today!
Singing Made Easy ~ Level 1
Who is Singing Made Easy ~ Level 1 for?
The beginning singing lessons in this course are perfect for ages 3 through adult. Yes, you can use this with your whole family!
What does it include?
Level I lessons (pdf)
Audio MP3 files
Coloring Sheets (pdf)
Level I – Piano Accompaniment (pdf)
Vocal Warmup Exercises (MP3 files, Lessons in pdf)
How does it work?
Read the lesson about the song you'll be learning and the vocal technique it focuses on. Then, listen to the audio demonstration by Marcia McCarry to learn how to sing it. Practice it with her, and then when you're ready, sing it with the accompaniment audio that's included. There are two keys, high and low, so you can pick the one that is most comfortable for you!

Beginning Singing Lessons Songs to Learn
Hot Cross Buns
Merrily, We Roll Along
Twinkle, Twinkle Little Star (English/French)
Honey Bee
Cuckoo (English/French)
Down, Down
Oh, How Lovely Is the Evening (Round)
Praise God, From Whom All Blessings Flow
Sleep, Baby, Sleep
I Saw Three Ships
America
The Singing Made Easy Philosophy
This program is designed to help beginners learn the proper way to sing. It doesn't really matter the age of the person using this book, as long as he or she is willing to start from the very beginning. One gentleman in his sixties purchased the entire series and commented later that he was having a great deal of fun catching up on things he never learned about singing (and music in general) as a child.
Although the songs are very short, there is a "teaching point" for each song to help the singer learn the foundational concepts. The program works well for homeschooled students because the parents can play audio songs to help the learning process. Students can sing along with the voice tracks until they know the songs and then with the accompaniment tracks only. Or you may prefer to use the Level I Piano Accompaniment Book to provide live accompaniment.
New Skills: Foreign Language and Performing
The song, "Twinkle, Twinkle Little Star" may be sung in English and also in French. "Cuckoo" appears both in English and German, complete with a pronunciation guide for the foreign languages.
After learning all the songs by memory, students may enjoy presenting a short recital for family and friends. Use the accompaniment book or the instrumental tracks without the vocals for a rewarding performance!
How Private Teachers and Schools Use Singing Made Easy
Private music teachers of other instruments often recommend this program for their students when they want them to learn singing and don't have the time to teach it during an instrumental lesson. Many private school teachers use this program in small classes. They especially enjoy singing the rounds in two or even three parts when the students know the melodies well.
Levels I–III and the Christmas set include coloring sheets for every song. Teachers and parents have full permission to duplicate them to use with multiple children in their own homeschool or in one classroom at a school or homeschool co-op. (Contact Gena at [email protected] for a license to use with multiple classrooms.)
See FREE Previews of Singing Made Easy ~ Level 1 here:
What else is included in Singing Made Easy ~ Level 1?
Learn the lines and spaces of the treble and bass clefs with the fun song "The Friendly Staff."
There are two vocal warm-up audios so you'll know exactly how to warm up your voice each day.
Do you play the piano? Use the piano accompaniment sheet music of each song to accompany yourself or your kids while singing!
Have the youngest singers in your home color the coloring sheet while they learn each song.
Who is the Author of Singing Made Easy?
Allow me to introduce myself. I'm Marcia McCarry, Professional Voice Teacher. Over the course of 45 years, I've offered private training to over 4,000 students of all ages, from the child in pre-school to retired mature adults.
Some years ago I realized that I needed to create my own teaching materials. My love for teaching wasn't enough. After years of searching, I had never found just the right materials to use in my studio. I knew that if my students of all ages were to learn to sing well that I would need to write my own program for my students, and I did!
What's Next?
Get started with your Level 1 beginning singing lessons. Then, spread out through the year 2021, Levels 2-4 and Christmas Carols Made Easy will be coming!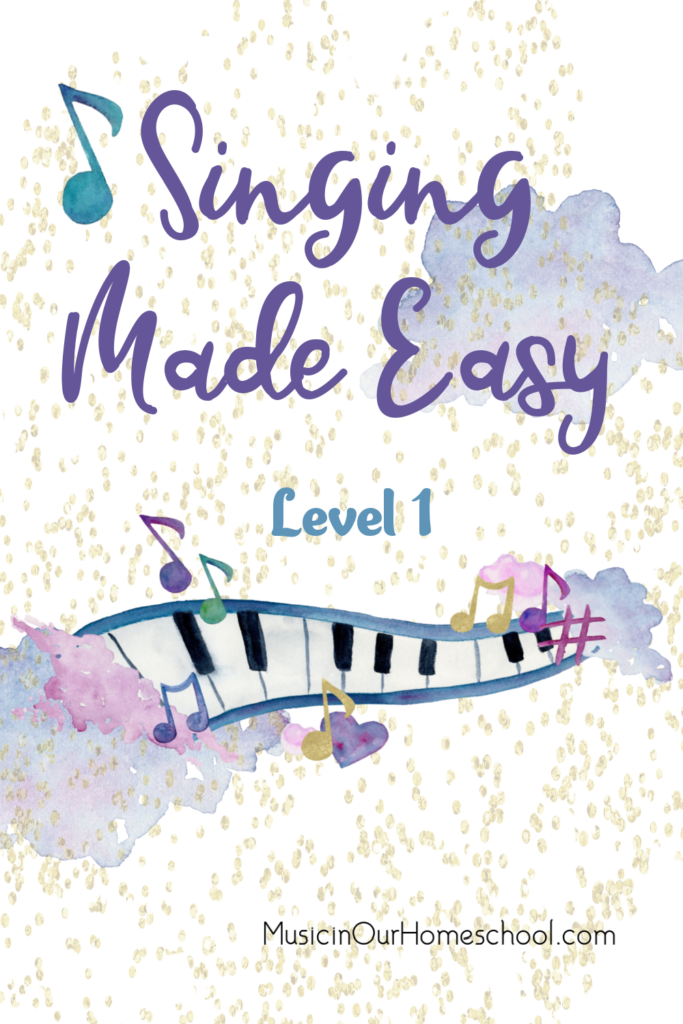 Related Posts: